Actor/Director
Directed by Daniel A. Kelin II, "Moa a Mōʻī" has its moments of eeriness and violence, but there are also welcome bursts of humor and romance as well. When Umi confronts a ferocious shark god, it is through flashing red light and the clattering and choreography of large wooden sticks held by actors that bring the beast to life. The visualization there is inspired. Fans of Hawaiian legends will get the biggest kick out of "Moa a Mōʻī." Other audiences will find the production an illuminating chapter of Hawaiian culture.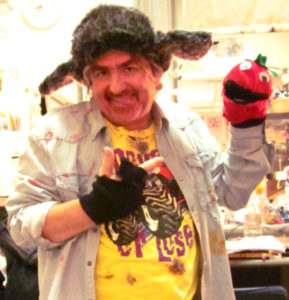 DIRECTOR
A select list

ENSEMBLE THEATRE, Bhopal, Madya Pradesh, India
How Far Will You Go?, company-devised/Red Apple Theatre Gathering (Sri Lanka), Kantipur Academy (Nepal), and other artists from around India
SANTIPUR-RANGAPEETH, Santipur, West Bengal, India
Mystery of Nihoa, company-devised/Rangepeeth company
CROSSROADS THEATRE FOR YOUTH, Pago Pago, American Samoa
Dream, Interrupted, company-created
Moira's Choice, company-created
O a'u ma lo'u uso, company-created
HONOLULU THEATRE FOR YOUTH, Honolulu, HI
Keiko & Louie: Best Best Friends (Mostly), Director/Playwright
Pacific Tales for Young People, Director/Adaptor
Island Spirits, Island Life, Commissioned by Pacific Outreach Initiatives
Mixed Plate Special
Tales of the Grotesque
He'e Nalu: riding the waves
JODRIKDRIK NAN JODRIKDRIK ILO EJMOUR, Majuro, Marshall Islands
Group devised social issue short plays and folklore plays that tour the islands
The Lady and the Demon, Guam tour
KUMU KAHUA THEATRE, Honolulu, HI
Moa a Mo'i, 2014
INTERNATIONAL WORK (Links)
Natya Chetana, Bhubaneswar, Orissa, India
Aazhi Children's Theatre Group, Pondicherry, India
The Little Theatre, Chennai, India
Shantipur-Rangpeeth, Shantipur, West Bengal, India
Jodrikdrik nan Jodrikdrik ilo Ejmour, Marshall Islands
Crossroads Theatre for Youth, American Samoa
Wan Smolbag Theatre, Vanuatu
plus Pohnpei, Guam
CABARET TIKI (Take a picture of one of the postcards, too)
Founder and director of a collective of writers and performers who wrote and produced plays of 5 pages or less, performing in non-traditional ways and venues such as at the zoo, through a bookstore's stacks, in collaboration with a queer cabaret, and an improvisation troupe.
HTY YOUNG PLAYWRIGHTS FESTIVAL
Instructor and director of the Pacific Young Playwrights class in which students wrote original one-act plays that were produced as a part of the HTY Theatrefest program.