Playwright
SING A PORPOISE HOME was a pleasure to read. We so enjoyed the script's exploration of magical realism through a beautiful story about acceptance and letting go. Our committee loved the script's attention to its characters' relationships, and the interconnections that the play focuses on between the two different generations and what each is able to teach to the other.
Shipwreck'd on the Body Beautiful, or, the Tats Dancing Man
*"Our readers expressed great admiration for this play. Your voice and ideas have made a significant impact on our reading team." Eugene O'Neill Theatre Center
*Performances coming in January, 2019
James F. O'Connell, or 'J.O.', is a one-time sailor turned vaudeville/circus performer who travels the country telling stories, dancing and singing about his shipwrecked adventures on the Pacific Island of Pohnpei, or 'Bonabee' as he calls it.  J.O. has long enticed his audiences with bits of song and dance from both Ireland and Pohnpei, revealing little personal secrets and fascinating cultural insights that takes them on a journey of an outsider trying to fit into what is, for J.O., a strange and amazing culture. Now, after nearly twenty years of performing, J.O. feels himself facing the end of his once compelling career. His audiences have grown less shocked by his exotic 'painted body,' as J.O. himself has become less engaged with his sensationalized 'savage' adventures. Personifying all the other characters in his tale, J.O. seems to capture the self-wrought loneliness of a life caught between subterfuge and fame while challenging his listeners to consider what, truly, defines humanity.
*Developed in part through an Aurand Harris fellowship from the Children's Theatre Foundation of America
*Winner of the NYU New Plays for Young Audiences, with development workshop
*Winner of an New England Theatre Conference Aurand Harris Playwriting award.
2 female, 2 male. The ocean holds secrets as well as great promise for Tamás' family. On a small island, at ocean's edge, Tamás faces both his birthday and the recent death of his beloved Grampy.  His mother lovingly tries to help Tamás' deal with the death while his estranged father also tries awkwardly to fill the gap.  Only through Tamás' unwitting discovery of a family secret does their life begin to change in surprising ways.
*Winner of the 2017 Old Miner's Children's Playwright Award, with a development workshop.
3 males, 2 females.  Donnie fashions himself a knight seeking to set wrongs right.  His mother, Gwen, struggles to support her little family while dealing with an unhealthy relationship with Caz.  Caz wants Donnie to be more 'normal,' which bothers Gwen.  Panda, Donnie's good friend, seeks to prove that girls are equal to boys by trying out for the boys' baseball team.  Irritating both Donnie and Panda is Frederick, a local bully and baseball player. Donnie's crusade against oppression upsets the tenuous balance of everyone's worlds and helps, in a slightly hilarious and slightly sad way, to create a promising future for them all.
Musical (Mis)Adventures of Goopy and Bagha
*Originally produced by the Isha Center Home School, Coimbatore, India
*Winner of East Valley Children's Theatre playwriting competition, AZ
*To be published by YouthPLAYS
9+ female, 12+ male. 7+ either. Goopy and Bagha are forced from their communities for playing music badly. Fortunately they find each other and begin a journey to find someone, anyone, who will love their musicianship. They comically encounter ghosts, wreck a ship, and inadvertently save a kingdom through their bad music.  In the end, they win over a pair of Princesses and turn evil into a footstool.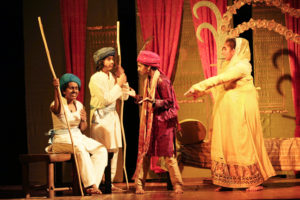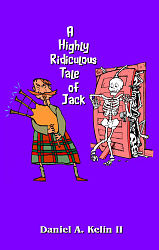 A Highly Ridiculous Tale of Jack
*Available at BigDog Plays
6 M, 3 F, 5 flexible. Jack's bagpipe playing is terrible. His parents can't take it anymore. So they encourage him to venture forth to share his 'talent' with others. Jack leaves home, but his tootling is so horrid it causes deaths all over the countryside. Jack's bagpipe 'music' even scares away a menacing Revenant. Desperate to keep Jack away from the castle, the King consults his counselors–Wise One and Wise, Too–to find a way to rid the kingdom of Jack's deadly bagpipe tootling. An overzealous knight, who wields a whopping weapon, is tasked to rid the countryside of Jack's unbearable bagpipe playing once and for all. Screamingly hilarious!
*Finalist in the 2018 NYU New Plays for Young Audiences
*Selected playwright, 2018 PlayFestival of the PlayBuilder's of Hawai'i
1 F (Fa), 1 M (All other characters). Fa dreams of being the romantic idol of teen pop idol Jesse Blue.  However, Khrystal, the school's theatre diva, always nabs the attention, sparking envious reverence from Fa.  Eustis, an awkward classmate, works stealthily to help Fa discover her true self in odd, somewhat clumsy ways. As does Fa's Dad, who's often lost in tender memories of his late wife, Fa's mother.  Just as Fa believes she is on the verge of achieving something magical, her dream collides with reality in an unexpected, otherworldly encounter.  Through music, young love and soul-wrenching encounters, Fa discovers who she can truly be.
A Most Lamentable and Excruciating ROMEO & JULIET, Or, What hath they done to thee Shakespeare?
*To be published by Big Dog Plays
7 F, 3 M. A high school drama group desperately tries to complete rehearsals for Romeo and Juliet despite the sudden departure of their teacher/director.  With just two days to go, diva attitudes, hijinks, backstabbing and clowning around pockmark the rehearsal. The teen director works diligently, but ineffectively, to rally the group together.  And their lead actor has just been admitted to the hospital.  And the lead actress must miss the final rehearsal.  And the two young girls playing the nurse just figured out she's old!  The show goes on, however in a most hilarious and unexpected production of something that almost resembles Shakespeare's classic.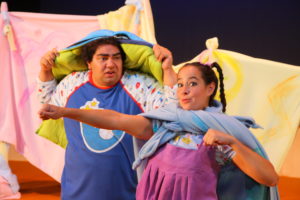 OTHER PRODUCED PLAYS
Honolulu Theatre for Youth
Everyone Knows what a Dragon Looks Like
…and the people spoke music: stories of the Marshall Islands
Keiko and Louie: Best Best Friends (Mostly)
'Da Bugga Like Eat' in Runny Noses, Tiny Tails
'Birdbrain and Featherhead' in Fools and Monkey Tales
Pacific Tales
Hawaii Tales
Island Spirits, Island Life, The EPIC Project