A Creative Christmas
Blog #3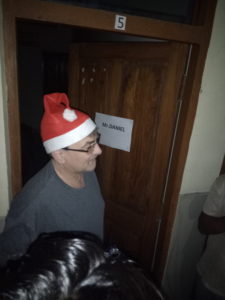 The insistent banging on my dorm room door at midnight caused me to nearly fall out of bed.  I in no way expected such a shocker despite the fact that midnight meant the beginning of Christmas here in Bhopal.  Stuffed into the small hallway were all of my workshop participants, a collection of artists from Nepal, Sri Lanka and India, all singing a Merry Christmas and sharing handmade crafts they had put together that very evening. A tiny tree was presented to me and a handful of quickly wrapped gifts. Now I believe I know what a 'genuine'  Christmas is. (No insult intended to my family!)
Our day continued with rehearsal. While Christmas is embraced here, this is primarily a Hindu country. The spirit of the holiday I regularly celebrate reverberated throughout the day, as our ongoing rehearsals have brought these varied companies of artists closer together. This Christmas day there proved to be less need for translation, less need for interventions and greater collaborative purposes as the artists continually grow to meet both their creative and their communal tasks.  On this day that for most of my life I have taken as a day of rest and celebration, on this particular Christmas I got to enjoy both the artistry and friendship of my multi-national troupe.
And amazingly, the day did not end there.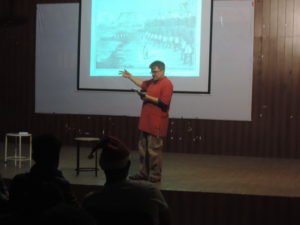 After lunch, a special event was planned.  First off, a small group of local Bhopal artists were invited to listen to me read my developing solo play.  To complete the sharing, both the Sri Lankan artists and Nepalese artists were offered the opportunity to share a little of their work as well.  Despite a late start, there was a sense of creative celebration in the air.  However, I quickly started second guessing myself.  My solo play is a language heavy piece based on an obscure historical figure with a fascinating background.  As I read, I was intensely aware of the widening language gap.  I think I broke out in a sweat as I both wished and worked hard to lessen that gap, but the gap grew — whether in my mind or reality, I wasn't fully aware, I only knew I felt the disconnect of understanding due to the language difference.  When I finished, there was enthusiastic applause, which I took for a kind of 'Thank god you're done, but we wish to politely reward you for your endeavor.'  The brief and highly energetic performances of my fellow artists and workshop participants was a welcome relief to me.  I enjoyed watching their presentations.  Upon their completion, however, I noticed an interesting phenomenon.  The applause was not comparative in size or duration to mine.  Without meaning to pass judgment on either of us, I was intrigued by this occurrence.
I did not have much time to dwell on it, as a large cake was revealed for the gathered artists, which read 'Merry Christmas, Danil Kelin.'  As the food was dispensed, i began to meet the gathered artists. And one of the best moments of this Christmas happened.  Many thanked me, but primarily they shared honestly that it was a challenge to follow my play's story and that the piece felt lengthy.  However, to a person, they had many kind words for my performance, amongst which they pointed to certain moments or passages that demonstrated much more understanding then they admitted.  And many had lovely suggestions, in support of the play, for music and dance and costuming.  I reflected deeply that evening about my own understanding of my Christmas audience.  And I will continue to think much more.  I sweated the language gap, but the gap seemed to be more in my patience to understand my audience.
And then followed the selfies.  So many of them wanted pictures of them, me, the assembled group, the Nepal group, the Sri Lankan group, female artists, the workshop participants.  One joked I should have been charging for the selfie permission.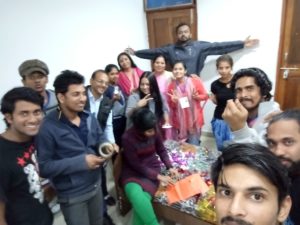 At dinner that evening, we got to share a little of the cake with the young men who cook for and serve us daily.  They seemed embarassed to suddenly have the chance to partake of food provided by us, but eventually accepted the small gift, all a-smiles. That tender interaction became like a symbol for the day.  When we allow ourselves to move past the shyness of or impatience with a new experience, we can gain such sweet rewards.
Christmas began and ended with some 'hard knocks.'  I am glad I opened the door to Christmas joy and opened my understanding to learning about new audiences.